Areas of application, objectives & benefits
KANEW 3S® has been supporting strategic, tactical and operational rehabilitation planning of operating assets in accordance with ISO 55000 in asset management for more than 25 years. With the software, all operating assets, e.g. pipes, valves or plants, can be included in the analyses and planning simulations, either individually or linked with each other.
Simulate the medium and long-term effects of your investment strategy
Optimize the budget use of CAPEX and OPEX
Analyze, evaluate and minimize the default risk of your assets
Create a transparent and objective basis for decision-making for your stakeholders
Consider external construction works in your rehabilitation decisions
Program features
KANEW 3S® has an intuitive graphical user interface, which is divided into the areas of data management, analyses and planning. The following overview gives you an outline of the software's functionalities.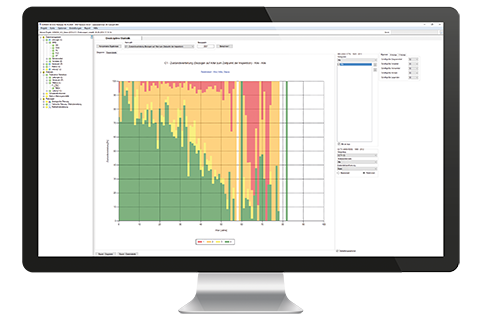 Analyses
A variety of descriptive statistics related to time, years of construction and age
Analysis of failure statistics
Generation of failure functions
Analysis of condition data, e.g. from inspections
Generation of Markov models for condition predictions
Determination of service life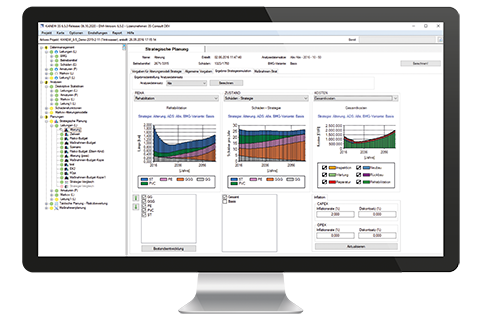 Simulation of medium and long-term strategies
Strategy types (selection): do nothing, status quo, what if, budget-oriented, risk-oriented, target value (service level)
Calculation of various technical and economic key figures
Linking the strategy level with action planning to derive suggested replacement years.
Strategy comparisons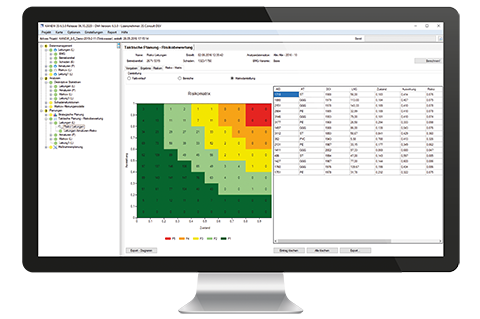 Risk Management
Risk assessment based on criteria for condition/probability of failure and impact/importance
Possibility of weighting individual criteria
Evaluation possibility for supply security
Derivation of priorities based on condition, importance and risk
RCM chart output
Basis for rehab work action lists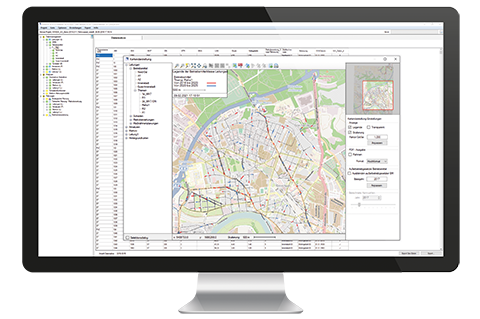 Action lists
Grouping individual asset priorities into measures
Linking with strategy level to derive suggested replacement years
Display of rehab plans in tabular form and in maps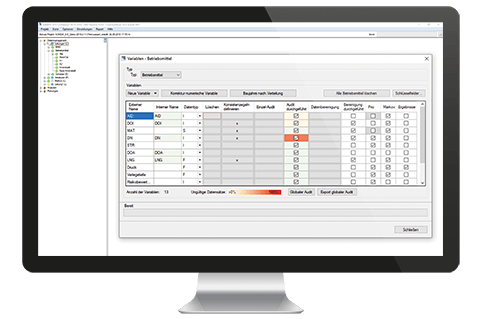 Other program features
Data import and updates via CSV, MS Excel, SIR 3S, ESRI Shapefiles and others
Consistency checking for asset inventory, failure and condition data
Various options for data corrections and enhancements
Grouping of data for detailed analyses and simulations
Calculations for individual asset classes or linked classes, e.g. for hierarchically organized plant structures
Consideration of coordination options
Integration of background maps for map display
Export of results in CSV, BMP/JPG formats
Reporting module for output to MS Excel and MS PowerPoint
Licensing
Single-user, multi-user, and floating-user are available license types.
License options are purchase, hire-purchase and leasing – including access to the 3S helpdesk and regular updates with an active maintenance contract.
Training
You can be trained by 3S engineers directly in the use of KANEW 3S with your models on a daily basis – on-site at your location, at a 3S location or online as a web meeting.
Helpdesk
You, as a user, license and maintenance customer, talk to 3S engineers in the helpdesk who work on similar, if not the same, tasks every day with the same tools.